Day 1
Scapegoat Wilderness


Day 2
Chinese Wall



Day 3
Bob Marshall Wilderness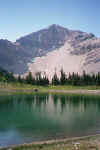 Day 4
Muskrat Pass

Day 5
Badger Meadows
Day 6
East Glacier

Day 7
Grinnell Lake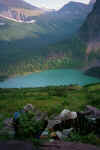 Day 8
Swiftcurrent Mountain



Day 9
Glacier National Park


Day 10
Two Medicine
Day 11
Two Medicine


Day 12
Bertha Bay, Canada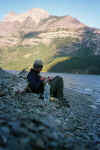 The Continental Divide Trail follows the Divide from Mexico 3100 miles to the Canadian Border in Glacier- Waterton International Peace Park. My walk in 2000 was along the top 260 miles of this trail, from Benchmark, Montana to Canada. I spent 18 days on the trail, on my way to raising $1,190 for Camp Sunrise.

The CDT offered me a full range of challenges. The most pressing issue was the devastating fires that ravaged Montana. A fire in the Scapegoat Wilderness forced me to skip the first 40 miles of my planned trip, therefore I began in Benchmark instead of at Rogers Pass. Fire restrictions in the Bob Marshall and in Glacier required me to leave my stove at home, therefore leading me to enjoy my Mountain House meals at "stream" temperature. I just had to imagine I was pulling dinner and breakfast out of the refrigerator instead of off the stove.

A few days before I finished the Bob Marshall section of my walk, the Wilderness was closed to all access due to the fire danger. My days in the Bob were very tense, as I strolled thru the endless track of untouched land. At one point, I had traveled a distance of over 95 miles in the Bob without running into another human. I did have the privilege of being stalked by a mountain lion while I was taking a break on the trail one afternoon, however, which reassured me that I was not entirely alone.

Glacier National Park is truly a jewel sitting high atop the Rocky Mountains. The cold morning temperatures and winds warned me of the power that the weather has on the northern haunts of Montana. I was even caught in a small snow storm while passing over Triple Divide Pass, where the headwaters of the Atlantic Ocean, Pacific Ocean, and Hudson Bay separate.

The wildlife in Glacier was exciting, yet produced fear at the same time. I was able to take some pictures of mountain goats, glimpsed a couple of Bighorn Sheep, and even took a few pictures of a feeding Black Bear. On the other hand, fear gripped me one morning while gazing up at a glacial cirque, realizing that a Grizzly bear with her cub was bearing down on me. It was a horrifying experience looking up into the cirque, believing you are watching a horse run at you, seeing your mind cannot grasp the size of a Grizzly bear on first sight. Although the dogma associated with a Grizzly bear sighting is to not run, when your body is filled with the fear of this immense animal you have no choice but to run. Something primal overtakes you, and the flight of fight mechanism overweighs any human logic. And so I ran. I was in the middle of the cirque pictured on Day 14, labeled 'Griz' cirque. Initially, the Grizzly bear and cub was 150 yards uphill from me, and as I ran to the right, the animals proceeded to scamper down and across the rocks toward me, all the while making a chilling barking-type noise. The mother would barrel down the rocks, with its enormous shoulders, but would have to wait for its cub after a few strides. This allowed me the extra time to run as fast as I could along the flat stretch of trail in this cirque. As this chase proceeded for what felt like an eternity, the Grizzly and cub closed to within 50 yards, but by this time I was nearing the scrub and boulders on the edge of cirque. The Grizzly lost sight of me as I exited the cirque, and lost interest. I ran and ran and ran until I wearily collapsed some miles later. That memory is ingrained in my mind forever.

In light of the imposing fire restrictions, scheduling conflicts arose between myself and the park ranger who was responsible for issuing permits, and I was forced to complete the section from Two Medicine back to East Glacier, where the Bob meets Glacier National Park. I then took a bus to Canada, and trekked south to Two Medicine to complete my journey.

I especially want to thank all the people that donated to Camp Sunrise. In 2000, 84 children were able to participate with this week of camp thanks to your help. Activities at this year's camp included such events as swimming, tennis, clowning, dancing, arts and crafts, sports, nature hikes and much more. These experiences are an important source of strength and support for all children. Campers walk away with team building skills, self-confidence, friendships, and memories. You make all my toil and effort worth it, realizing how much the children will enjoy their week at the camp. I also want to thank my sponsors, Patagonia , Mountain House, Balance Bar, and Cascade Designs.

I hiked in Patagonia clothing throughout my trip in Montana, fighting temperatures that even plunged to a chilly 24°F one morning, with Capilene short and long sleeve shirts, as well as my Patagonia gloves and trusty balaclava.

I munched on Balance Bars, both their original variety as well as their Outdoor Bar, as I moved along my 20 mile days on the CDT, and used a Sweetwater Water Filter, by Cascade Designs, to treat my water along the Divide.

Lastly, I must add special thanks to Mountain House foods. I was quite surprised to encounter the fire restrictions in Montana, realizing that I would not be able to cook anywhere along the trail either in the Bob or in Glacier. So, I ate my scrambled eggs in the morn and various meals in the eve with a little cold water.
Day 13
Highline Trail



Day 14
Highline Trail


The 'Griz' Cirque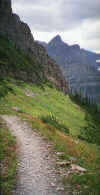 Day 15
Piegan Pass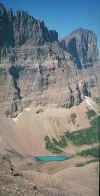 Day 16
St. Mary's Lake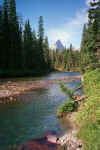 Day 17
Triple Divide Pass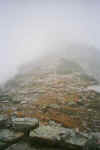 Day 18
Mt Morgan